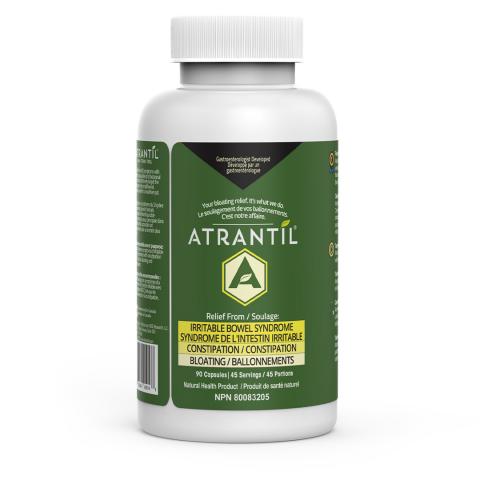 ,
,
40% OFF (Discount included in listed price).
(Best before date: Sept/23) Doesn't technically expire and has been shown effective even after 8 years. 
Atrantil is a natural and safe solution proven to get rid of abdominal bloating and discomfort.
Atrantil's patented combination of natural polyphenols gets rid of your bloating and supports your digestive health. Portions of the gut are intended to contain small amounts of bacteria. If this relatively sterile environment gets overpopulated with bacteria, trouble isn't far behind. When bacteria start to break down the food you eat, they produce methane—which can create abdominal discomfort and that uncomfortable bloated feeling. Additionally, if you suffer from Irritable Bowel Syndrome (IBS), or Small Intestinal Bacterial Overgrowth (SIBO), Atrantil may be the solution you've been looking for! 
Atrantil has been clinically tested and proven. For those suffering from Irritable Bowel Syndrome (IBS) & Small Intestinal Bacterial Overgrowth (SIBO), Atrantil was proven to be over 80% effective in two separate clinical trials.
Atrantíl's three natural ingredients work together to help weaken and remove unwanted bacteria and return your gut to its normal, calm environment. New research shows that the problems start with methane producing bacteria. Left untreated, these out-of-place bacteria feed off the foods you eat and create methane gas that leaves you bloated and uncomfortable. Atrantíl breaks the cycle naturally—and gets you and your digestion back on track.
Atrantíl has three active botanicals—Peppermint Leaf (M. balsamea Willd extract), Quebracho extract, Horse Chestnut (Conker Tree extract) composed in a unique patented molecular combination.
Contraindications: If you have gallbladder disease or liver disorder, do not use. Consult a health care practitioner prior to use if you are pregnant or breastfeeding. 
General Dosing: Take two capsules a day, up to three times a day with food. Continue until you feel relief, then consider taking a maintenance dose.
90 caps per bottle.
$30.00