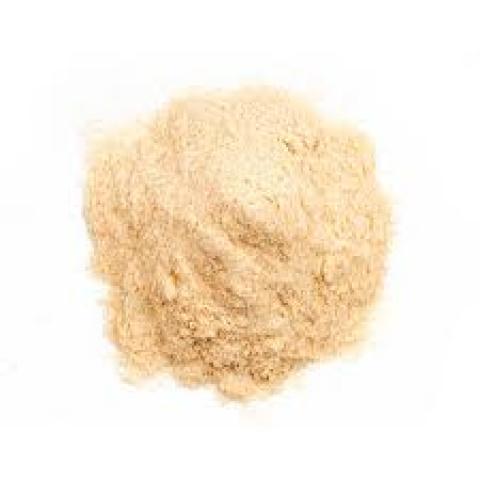 Certified Organic Baobab from South Africa.
The Baobab, Adansonia digitata, also known as the upside down tree, and monkey bread tree, is a drought-tolerant tree common to much of sub-Saharan Africa.
It is one of the oldest trees on the planet!  It reaches heights of between 5–25 m (in rare cases 30 m) tall, and up to 7 m (in rare cases 11 m) in trunk diameter. This is a very versatile tree and the young leaves, which can either be palmate or simple, are often picked and eaten as a form of spinach. The leaves are also dried as a coarser tea cut.
The fruit is found inside hard, coconut-shaped, pods that hang upside-down from the trees. The pulp dries naturally on the tree, so there is no heat extraction, freeze-drying or pasteurization involved in the processing. Only a mechanical process is used to obtain the soft, powdery pulp. It has a unique pleasant flavor reminiscent of pear with a mild slightly acidic after taste due to its high percentage of organic acids such as citric acid, tartaric acid, malic acid and succinic acid.
Benefits:
Incredible concentration vitamins, minerals, fiber and antioxidants 
6 x more vitamin C than oranges (300mg/100g)
Thiamine (Vitamin B1) and Pyridoxine (Vitamin B6) contribute to increased energy levels
Boosts the immune system and reduce fatigue
The vitamin C increases the absorption of iron and calcium. 2 x more calcium than milk (280 mg/100g) 6 x more potassium that bananas (150 mg/100g) 30 x more fiber than lettuce (44 g/100g)
The high fiber content benefits the digestive and intestinal system
2 x more antioxidants that Goji berries (25.000 umole TE/100g). The high antioxidant and anti-inflammatory capacity of polysaccharides can aid in inflammation reduction.
More iron than red meat. The high content of Iron, Potassium and vital blood clotting ingredients can help support the circulatory system
Low in sugar and fat
The nutritional profile and properties of the Baobab Pulp make it an interesting new ingredient for the food, nutraceutical, beverage and cosmetic industries. It can be used in a variety of formulations to provide nutritional fortification, flavor enhancement, viscosity, texture modification and a natural source of nutrients.
Applications/Use: Energy bars and drinks, fruit smoothies, ice creams, jams, sauces, chocolate, baked goods, yogurt. Taking it every day will supplement your recommended daily allowance of vitamins, minerals, fiber and antioxidants.
$10.00