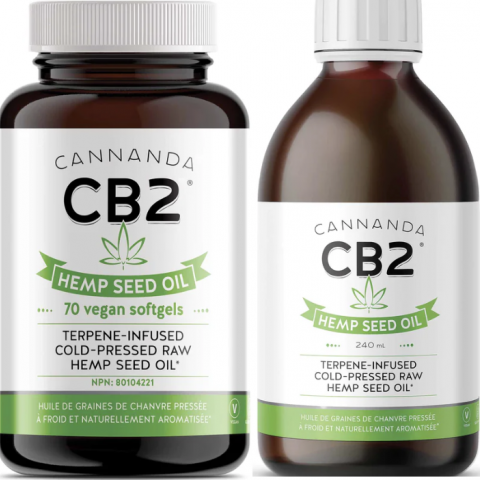 The Legal, Non-Prescription Alternative. We start with Cannanda's physician-formulated, multi-award-winning CB2™ terpene blend, and infuse it into pure Canadian-grown, certified-organic, cold-pressed hemp seed oil. This best-selling product is used for all the same reasons people use the CB2™ Wellness, but with the added benefits of the exact essential fatty acids that our body uses as building blocks for our own production of endocannabinoids.
By harnessing the power of terpenes in this precisely formulated blend, we can optimize the function of the ECS through activating one of its main receptors, a receptor called cannabinoid receptor type 2 (CB2).
Activating the CB2 Receptor.  CB2 is one of the two main receptors of the ECS. There are numerous benefits to activating this receptor without activating the CB1 receptor (the receptor THC activates, and what is responsible for the "high" associated with cannabis).
Ingredients 
Unflavoured: Organic hemp seed oil, Cannanda CB2™ terpene blend (100% natural terpenes from botanical essential oils)
Sweet Ginger & Orange Creamsicle versions: Organic hemp seed oil, Cannanda CB2™ terpene blend (100% natural terpenes extracted from botanical sources), natural steam-distilled flavours, monk fruit extract.
Contains No: wheat/gluten, dairy/lactose, peanuts, tree nuts, eggs, fish, shellfish, soy, corn, sugar, GMO, artificial flavours or colours.
Suggested Use: Take 1 tbs up to twice daily with meals. Start with 1/2 tbs and slowly increase to your preferred dose. Use raw and unheated. Try using as a salad dressing, or blend into smoothies, protein or green drinks, and any other healthy recipe that does not involve heat or cooking, or consume directly off the spoon. For higher potency, add drops of CB2™ Wellness terpene blend to a spoonful of this hemp seed oil.
$31.50