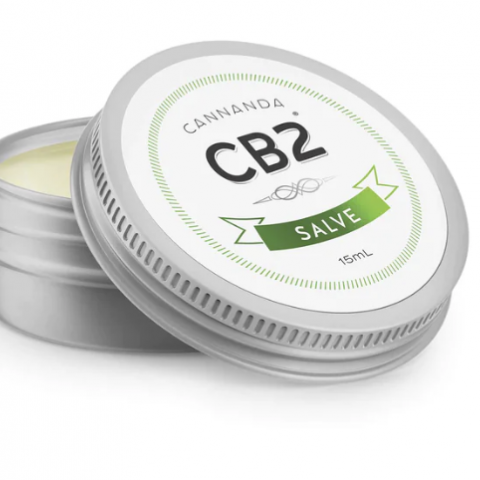 Feel the fast-acting benefits of Cannanda CB2® Salve. Targeted local relief for muscle strains, soreness, and mobility issues. Goes on cool, silky smooth, and smells amazing!
A portion of every sale is donated to Ontario Bee Rescue.
Only 4 clean ingredients! Infused with the power of multi-award-winning, physician-formulated Cannanda CB2® terpene blend, an incredible natural fragrance blend containing compounds known to active your CB2 receptors.
Only 29 cents per one-third mL application! (Based on a single 60 mL tin at regular price.) Are you a first-time buyer? Try risk-free with our no-hassle money-back guarantee. Love it or we'll give you a 100% refund!
Ingredients: Organic shea butter, natural fragrance (Cannanda CB2® terpenes extracted from botanical essential oils), organic peppermint essential oil, organic carnauba wax.
How to use: Massage into skin as needed for local relief. Repeat as needed up to 3 or 4 times throughout the day. For external use only. Keep away from mucous membranes. For higher potency, add drops of Cannanda CB2® Wellness terpene blend as you massage the salve into you skin. In warmer temperatures, the salve may have a tendency to soften or melt. This does not alter the effects/performance of the cream. The salve was formulated to be body-heat activated (melts upon contact with skin), although this low melting point means warm temperatures can also result in melting. If this occurs, we recommend placing the tin in the refrigerator for 24 hours or until it reaches a firmer consistency. To maintain the salve's consistency, store it in a cool, dry place away from direct sunlight or excessive heat.
Allergens: Contains D-limonene. Free from: synthetic fragrances, phthalates, styrene, musk ketone, benzyl acetate, methylene chloride, BHA, BHT, gluten, eggs, dairy, peanuts, tree nuts, fish, crustaceans, soy, mustard, sesame seeds, sulphites, animal by-products, carrageenan. Third-party lab tested to be free from yeast, mould, solvents, pesticides, and heavy metals.
See CB2 Hemp Seed Oil for more info.
$18.00