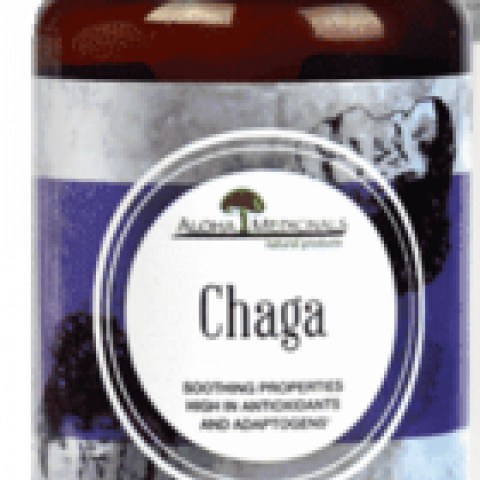 Aloha Medicinals Pure Chaga™ 
This is a unique blend of cultivated and wildcrafted Chaga. Wild Chaga is harvested for the maximum beneficial properties, such as being a source of antioxidants, phytosterols, and betulinic acid (triterpenes). Chaga is a Full Spectrum MycoProduct™, the best 100% pure Chaga mushroom product available today. Guaranteed to contain more than 300 mg of polysaccharides (60%) in every capsule and made by the world's largest producer of medicinal mushrooms.
*American Grown and Produced, 100% Certified Organic, 100% Kosher, 100% Halal
Recommended dose: Adults: Take up to 1 teaspoon (2g) or 1 to 4 (500mg) caps per day.
Ingredients: Wild Crafted Inonuotus obliquus, Cultivated Inonuotus obliquus *(mycelium, primordia, fruitbodies, and extracellular compounds)
Other ingredients: Vegetarian Capsule (Pullulan), Organic White Milo (Growing Substrate) 
Benefits may include:
Helps to balance metabolic systems
Antioxidant properties
Immune system support
Lowering Blood Sugar
Anti-Inflammatory
90-500mg vegcaps
$24.00