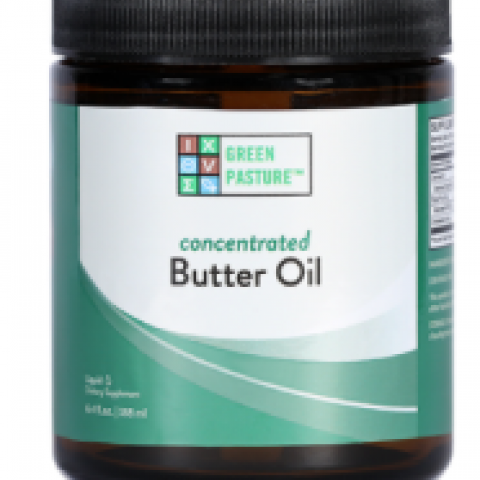 Green Patures Concentrated Butter Oil
Concentrated Butter Oil comes in Unflavored • Inspired by the work of Dr. Weston A. Price • All natural source of vitamin A, and Conjugated Linoleic Acid (CLA) • Concentrated through centrifugation • Made from milk of grass-fed cows Same great product with a new look and simplified name!
X-Factor® Gold Concentrated Butter Oil is now simply called Concentrated Butter Oil. 75 SERVINGS PER CONTAINER Concentrated Butter Oil is made from milk produced by cows grazing on rapidly growing green grass. It is extracted and concentrated through centrifugation. The speed of grass growth, timing of grazing, species of grass, climate, and extraction method are all-important factors in making real Concentrated Butter Oil. Get more for your money with this liquid version.
Recommended Serving Size: 1/2 tsp (2.5 mL)
Nutritional Information: Calories 25 Calories from Fat 25 Total Fat 2.5 g (4%*) Saturated Fat 1.5 g (8%*) Cholesterol 5 mg (2%*) *Percent Daily Values are based on a 2,000 calorie diet.
*We are selling this at a great loss because the duty on this is 313%. It will be discontinued once we have sold out.
$78.00