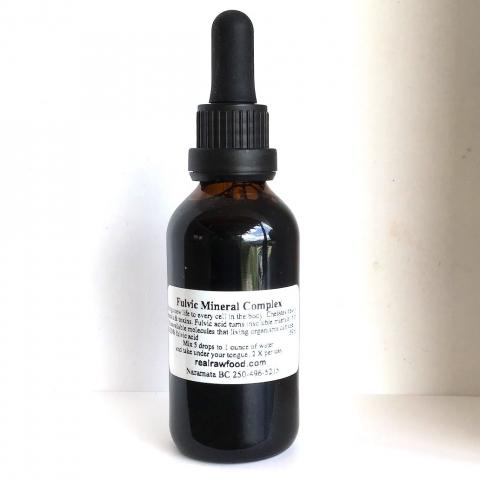 A liquid-concentrate, prehistoric, trace mineral and organic acid complex harvested and manufactured in the USA.
RESTORE and INVIGORATE YOUR HEALTH with Fulvic Minerals.
Fulvic acid is a result of the microbial breakdown of organic matter in soils, known as humus. Humus contains humic acid. Within humic acid, a sub-set of smaller molecules develop known as the fulvic fraction.
Because of its many nutritional components and anti-oxidant and electrolytic power, ounce for ounce Fulvic Mineral Complex has more instant cellular revitalizing, replenishing, restorative, therapeutic, healing and nourishing characteristics than other nutrients . The electrolytic value has also been shown to dramatically increase permeability of bio-membranes, which means that it can sensitize cell membranes for better absorption or assimilation of other nutrients in its presence.
Benefits of Bio-Electrically Charged Fulvic/Humic Minerals may include:
Stimulate metabolism
Give positive effect on RNA & DNA
Increase metabolism of proteins
Increase activity of multiple enzymes
Enhances the permeability of cell membranes
Enhance cell division and cell elongation
Aid chlorophyll synthesis
Increase drought tolerance, and prevent wilting of plants
Contribute electrochemical balance as a donor or an acceptor
Synthesize new minerals
Decompose silica to release essential mineral nutrients
Detoxify various pollutants (pesticides, herbicides, etc.)
Increases Energy
Alleviates anemia
Chelates body toxins
Reduces high blood pressure
Potentiates vitamin & mineral supplements
Magnifies the effect of herbal teas and tinctures
Chelates all monovalent and divalent metals
Is a powerful natural electrolyte
Restores electrochemical balance
Stimulates body enzyme systems
Helps rebuild the immune system
Reported external beneficial use in:
Treating open wounds
Healing burns with minimum pain or scarring
Eliminating discoloration due to skin bruises
Is a wide spectrum anti-microbial and fungicide
Treating rashes, skin irritations, heal cuts and abrasions
Helping heal insect bites and spider bites
Neutralizing poison ivy and poison oak
An alkaline concentrate with a spectrum of approximately 70 plant-origin trace minerals and electrolytes plus 13 organic acids.
Concentration of fulvic acid content - 15 to 20% by the Bulter or BMB method of fulvic acid quantification or 3% - 6% with the Standardized Lamar Method.  PH 10.5 - 11.3.
Supplement serving: 0.5 mL - 1.0 mL daily in non-chlorinated drinking water or juice. Note: 1 mL = 20 drops when dispensed from a standard medical dropper. Requires dilution in water.
*One bottle is enough for over 3 months supply @ 20 drops per day.
Fulvic Minerals are now considered to be the most important nutrition discovery of the past 100 years.
$31.00