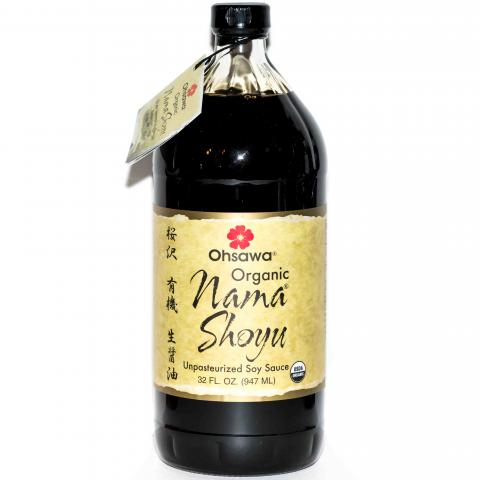 Certified Organic from Japan.
The Only Soy Sauce that's Fresh and Alive!
The spring water used to make Ohsawa® Organic Nama® Shoyu comes from a small Japanese mountain village called Kamiizumi ("God Spring"). Dr. Masaru Emoto, Director of the Hado Institute in Tokyo and author of Hidden Messages in Water, has water crystal photographs from this spring that reflect its beneficial effects. Optimal well-being literally comes from good vibrations. When we take in good vibrations, they correct distorted frequencies within our cells, assisting our health and healing. Kamiizumisui water has been filtered through Chichibu paleozoic granite strata slowly for 1,400 years. It is scientifically proven to be "rare water, full of life-energizing force," with twice the surfactant potency and 18% more enzyme activity than ordinary water. Its pH is very close to that of the human body. Enjoy Ohsawa® Organic Nama® Shoyu's full-bodied flavor and exquisitely delicate bouquet, whether you're using it at the table or in cooking.
• Unpasteurized - Fresh & Alive!
• Made with mountain spring water
• Naturally low in sodium
• Naturally aged over two summers in 150-yr-old cedar kegs
• No added alcohol or preservatives
Ingredients: Organic whole soybeans, mountain spring water, Organic whole wheat, sea salt, and aspergillus oryzae (koji).
Nutrition Facts:
Serving Size 1 Tbsp
Servings per container about 63
Calories 10
Total Fat 0g (0%)
Sodium 720mg (30%)
Total Carbohydrates 1g (0%)
Protein 1g
$29.00