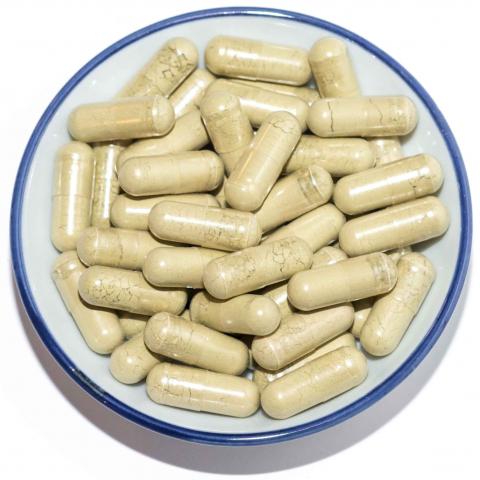 Herbal Parasite Cleanse (Made here at Real Raw Food)
Cheap and easy.  After years of trying almost everything to get rid of candida I used this formula and after 30 days it was gone, so i thought others would appreciate it.  Each package contains enough for a 30 day treatment.
Dosage is 2 capsules in the morning and 2 more capsules 12 hours later. Take it at least 30 minutes before meals. This dosage is for adults and not recommended for small children or pregnant or nursing women. No diet change is needed.
To treat a 30 pound child:  open the capsule and measure out 1/2 of the loose powder; put this into a spoon full of honey, jelly or applesauce and give to the child. It can also be mixed into liquid. Give the other half 8-12 hours later.
For a 60 pound child: give 1 capsule twice per day.
For a 90 pound child (you will need to order 2 bottles): give 1 capsule 3 times per day
 If your child is over 12 years old and 100 pounds or more – he or she may safely take Para-Purge as adults.
Store any leftover capsules in the freezer for up to 2 years.
Para-purge For CHILDREN is NOT RECOMMENDED for children under the age of 2 or for children under 30 pounds!
 We would like to start a testimonial page so everyone is welcome to email their experience after a 30 day course. A coffee enema  every day will also help. Parasite info Tissue Cleansing Through Bowel Management. may be used as a tea in enemas or colemas.
Modern medicine and chemicals used to treat worms are formulated to rid the body of only one type of parasite at a time. Parasites easily migrate to a different part of the body that's not being treated.  Herbal treatments work holistically. 
HERBAL REMEDIES FOR PARASITE REMOVAL
There are two schools of thought on herbal parasite removal.  This first is very strong doses over a short period of time (seven days).  This will destroy parasites, But it is also traumatic for the body and it misses many larvae and eggs in the process.  These escapees will just grow, hatch and re-infect you.  The second school of thought is what Para-Purge is based on.  We have found that a milder dose of parasite killing herbs over a longer period of time is the most effective way to rid your entire body of parasites and their toxins.  Your body does not go into shock - and all parasites, larvae and eggs are removed over a thirty day period.  Most parasites are destroyed within the first week of treatment, however, the remaining larvae and eggs are removed in the next twenty-three days.  Parasites will try to migrate to any part of the body that is not being treated so they can stay with you - their host.  This formula treats the entire body so there is no escape.
"Make no mistake about it, parasites are the most toxic agents in the human body."
The ingredients are almost the same as Humaworm which has also given great results to many people. 
Contains 26 potent organic or wildcrafted herbs:
Barberry, Black Walnut, Burdock, Cascara Sagrada, Cayenne, Cloves, Cramp Bark, Elecampane, Garlic, Gentian, Ginger, Fennel, Fenugreek, Hyssop, Licorice, Marshmallow root, Milk Thistle, Neem, Pau D' Arco, Peppermint, Psyllium, Sage, Senna, Thyme, Yellow Dock, Wormwood.
$45.00