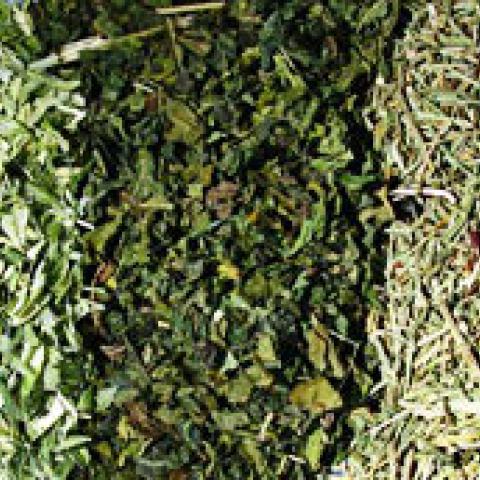 Ingredients: Nettles, Oatstraw, and Horsetail.
These herbs are found to have exceptionally high levels of natural silica as well as other nutrients that are very good for the teeth and bones. Users have reported that this tea can help teeth to heal from decay. You can make tea with cold water by soaking it overnight or by steeping in hot water. The silica in these herbs converts to calcium. The other herbs work in close conjunction with this master calcium herb.
We need calcium to build strong nerve sheaths, vein and artery walls, bones, teeth, etc. This combination is helpful for cramps, "Charlie horses," successful pregnancies, healthy bones, teeth, hair, skin and nails, healthy eyes and for all calcium needs in the body. It is helpful for everyone. It is also known to promote digestion and cleansing of the body.
Traditionally used as a Dietary Supplement when the following conditions are present:
Arterial Disease, Arthritis, Atherosclerosis, Bones , Brittle, Brittle, Broken, CVI, Chronic Venous Insufficiency, Coronary Artery Disease, Degenerative, Dental Disease, Gingivitis, Gout, Gum Disease, Hardening Of The Arteries, Nails , Nerves , Osteo, Osteoporosis, Periodontal Disease, Plaque Arterial, Pregnancy, Pyorrhea, Rheumatoid, Support, Varicose Veins, Yellow Nail Syndrome.
This tea tastes very good in combitaion with Gut Tea, as well.
$27.00