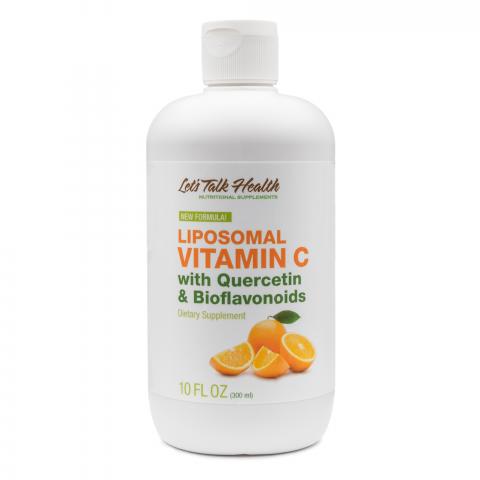 Liposomal Vitamin C with Quercetin
Let's Talk Health Liposomal Vitamin C with Naturally Cold-Pressed, Non-GMO Sunflower Seed Lecithin. NEW Formula with Quercitin and Bioflavonoids and & Non-Hydrogenated Phosphatidylcholine!
"We were one of the pioneers in the development of Liposomal Vitamin C. Our Liposomal Vitamin C has been our best-selling formula since we first introduced it six years ago. The reason is simple - Let's Talk Health Members and wellness clinics were seeing great results by increasing the absorption of Vitamin C in their bloodstream without the stomach distress.
Our NEW Liposomal Vitamin C with Quercetin and Citrus Bioflavonoids has a proprietary and exclusive Quercetin and citrus bioflavonoids complex that you will not find in liposomal form anywhere else.
By including Quercetin and Citrus Bioflovonoids – based on the latest science – to greatly enhance the curative power of vitamin C, our NEW Liposomal Vitamin C with Quercetin Bioflavonoids can deliver highly bioavailable vitamin C as well as nourish your cells with phosphatidylcholine faster and more efficiently.
This multi-nutrient, plant-based approach with vitamin C and Quercetin/Bioflovonoid complex works to disrupt virus entry, replication, enzyme activity and assembly, and concurrently fortify the immune response promoting early IFNs production, modulating interleukins, promoting T cell maturation, and phagocytic activity (a critical biological activity through which the host can protect itself from infectious and non-infectious environmental particles and remove unwanted host cells in order to maintain tissue homeostasis).
Our NEW Liposomal Vitamin C with Quercetin Bioflavonoids formulation now also contains an incredible 1,200mg of natural Phosphatidylcholine (PC) — The ONLY Liposomal Vitamin C with Quercetin on the market that utilizes a Proprietary Cold Structure Technology™ to create Natural, Non-Hydrogenated Phosphatidylcholine from non-GMO sunflower lecithin. PC also enhances the free passage of food and energy into the cell by fortifying cell membranes to protect cell contents while also detoxifying your body by escorting wastes and detritus out."
*Vitamin C is water soluble making it more volitile than other nutrients. Please note that on occasion air pressure may build up in the bottle and be released when the bottle is opened. This does not affect the efficacy or potency of the formula.
Serving Size: 1 Teaspoon (5 mL) per day  
(60 Servings Per 10oz Bottle). Contains 1000mg Vitamin C, 100mg Quercetin/citrus bioflavonoids and 1200mg Natural Phoshatiidylcholine(from non-GMO sunflower oil extract) glycerin complex. Certified non-GMO Vitamin C (from sodium ascorbate and ascorbic acid) 
*Supplier has assuered us that the product lasts a min. 18 months after manufacture date and a min. 6 months after opening. 
Landmark Publication on Vitamin C for COVID     Benefits of Liposomal Vitamin C with Quercetin & Citrus Bioflavonoids
$64.00